US MARCH SPECIALS
Place your order online or browse my website at www.JRWatkins.com/consultant/eleisiawhitney The Special Offers tab on the menu shows sale items.
When you go to my website choose Sign In/Create Account in the upper right side of the web page and then "Create a Watkins Customer Account" so you can track your order history. Or sign in with your ID Number or Username and password. Whether you place your order online or by phone please give my name and ID# (Eleisia Whitney ID# 335001) so that I get credit for your order. Thanks so much! Call me if you have problems, 925-838-0186. I'll be happy to place your order for you.
Free shipping on orders of $100.00 and over
Stock up on your favorite products or combine orders with friends and family to have your products shipped free of charge!
2017 Master Catalog
Order online, by phone, or by mail.

10% Off Black Pepper
We select only the finest sources of premium-grade, top-quality peppercorns with high essential oil content. Experience the Gold Medal winning taste of the most flavorful pepper on the market. (6 oz/170 g)
#01140 $8.99 each (regularly $9.99)
10% Off Cinnamon
Our award-winning cinnamon has been a part of family rituals for more than 100 years. Watkins cinnamon contains 3% to 3.5% essential oil, while many others contain only 1% to 2%. (6 oz/170 g)
#01115 $7.64 each (regularly $8.49)
Customer Reviews of Watkins Pure Ground Cinnamon
True Cinnamon Taste - I bake with cinnamon all throughout the year and have tried store bought brands, specialty brands and it always seemed I needed to add more cinnamon to the recipe in order to get a cinnamon taste. When I started using Watkins cinnamon in my recipes I would receive compliments on the flavor of the cinnamon. I have not found a match for the quality in flavor to Watkins cinnamon. Rated 5 stars out of 5 stars
Use Watkins Cinnamom in nearly everything I cook - Watkins' Cinnamon has been my favorite Watkins product since I was a child. I love cinnamon and Watkins is the best. I use Watkins cinnamon in nearly everything I cook or bake. I have made up my "house seasoning" that I use when I cook made up of Watkins black pepper, Watkins garlic powder, kosher salt and Watkins cinnamon. My Cinnamon Salmon has been a hit for years with family and friends. Rated 5 stars out of 5 stars
10% Off Cooking Spray
Non-stick butter-flavored cooking spray lets you achieve virtually fat-free cooking. Nearly 1,600 servings per can! (14 oz/397 g)
#01040 Cooking Spray $8.09 each (reg. $8.99)
10% Off Grapeseed Oils
Our all-natural grapeseed oil is lower in saturated fat and higher in unsaturated fats than nearly any other oil. It is one of the only foods shown to naturally lower LDL ("bad") cholesterol and increase HDL ("good") cholesterol. Antioxidants help make this a healthy oil, and the oil's high smoke point keeps it stable during grilling or sautéing. (12.6 oz/374 ml)
$11.69 each (reg. $12.99)
#01535 Original Grapeseed Oil
#01527 Garlic & Parsley Grapeseed Oil
10% Off Pain Relieving Liniment Spray
For decades, a group of ultra-popular Watkins products was affectionately known as the "Super Seven*." But this spray is so popular that it transformed that group into the "Excellent Eight." The natural pain-relieving properties of camphor are blended with the penetrating power of menthol to create a convenient, fast-acting spray that is 96% natural. Sore muscles and arthritis pain have met their match! (4 oz/118.3 mL)
$8.99 each (reg. $9.99)
#12350 Pain Relieving Liniment Spray
Customer Reviews of Watkins Pain Relieving Liniment Spray
Amazing product - Truly an amazing product. I have severe rheumatoid arthritis and this offers an extra layer of relief that lasts and lasts. I'm glad I found it, and I know it's going to become a lasting part of my daily routine. Rated 5 stars out of 5 stars
Pain Relieving Liniment Spray - Scent: Menthol Camphor - I have rhuematoid arthritis that causes pain on the top of my left foot. This spray immediately eases the pain and continue working to long after the spray is initially applied. The spray bottle is easy to travel and quick to use. Rated 5 stars out of 5 stars
$1.00 Off White Cream Liniment
White Cream Liniment is an effective pain relief formula that uses evergreen-based counterirritants to provide temporary relief from arthritis, muscle strains, and discomfort resulting from over exertion. The creamy lotion won't dry skin. Rub it in to stimulate circulation and leave your skin feeling soft and smooth. (11 oz/325 ml)
$13.99 each (reg. $14.99)
#02316 White Cream Liniment
$1.00 Off Pain Releiving Liniment (Red Liniment)
Watkins Pain Relief Liniment (formerly known as Watkins Red Liniment) was the first product sold by J.R. Watkins in 1868, and it continues to deliver natural pain relief. Our updated formula removes all traces of artificial red coloring, making this one-of-a-kind pain reliever 96% natural. Pat or dab (don't rub) this quick-absorbing formula, which uses all-natural camphor and red pepper extract (capsicum) to stimulate nerve receptors that feel heat and mask feelings of pain to relieve minor muscle aches, soreness and stiffness. Sore muscles and arthritis pain have met their match! (11 oz/325 ml)
$11.99 each (reg. $12.99)
#02317 Pain Relieving Liniment
$1.00 Off Ultra-Rich Hand Cream
The driest, roughest hands need the most intensive moisturizing available. When hands—and heels, elbows and knees—are severely chapped or plagued by painful cracks and splits, Watkins has the remedy. Our ultra rich cream helps seal in the skin's own natural moisture, providing instant moisturization and leaving a protective barrier against the harshest conditions.(9.7 oz/275 g)
$6.99 (reg. $7.99)
#10484 Ultra-Rich Hand Cream
Customer Reviews of Watkins Ultra-Rich Hand Cream
Love, Love, Love this product - Best purchase I have made yet! Love this product. It is non-greasy and smells divine. I recommend this product to all my customers who are looking for the perfect lotion for those dry, cracked hands (men and women). JR Watkins please don't ever discontinue! Rated 5 stars out of 5 stars
Ultra-Rich Hand Cream Eczema Savior - My son at 13 years old has had severe eczema on his arms and neck since birth. Unfortunately most creams and treatments are so filled with chemicals they burn his skin more than they help it and most "natural" products utilize coconut oil. Well, my son is allergic to coconut and coconut oil. Introduce Ultra-Rich Hand Cream Savior. This product works on his skin without leaving his clothes stuck to him or looking greasy and dirty. Plus, did you know the lanolin in this is the #1 recommended ingredient for that summertime case of prickly heat/heat rash. Thank you JR Watkins for finally coming to my rescue with this cream. Please consider more products with Lanolin oil based ingredients in them instead of coconut oils. I know my son is grateful you made this one. Rated 5 stars our of 5 stars
$1.00 Off Hand & Body Lotions
Keep your body's delicate skin soft with our Hand & Body Lotion. This rich, every-day formula contains ten essential oils and plant-derived extracts to give your skin deep, long-lasting moisture. A combination of shea and cocoa butters softens skin in the driest of conditions, leaving it naturally smooth and nourished. (11 oz/325 ml)
$7.99 each (regularly $8.99)
#20470 Aloe & Green Tea
#20510 Coconut Milk & Honey
#20442 Grapefruit
#20486 Lavender
#20487 Lemon Cream
#20554 Pomegranate & Acai
NEW! Duet Bottle $2.99
Going somewhere? Take your favorite Watkins products with you in our TSA-friendly travel bottles! Each container holds up to 3 fl. oz. The bottles snap together to keep your carry-on organized and their flip-tops make for easy dispensing. We've even included a set of labels so you¹ll never confuse your body cream with your body wash.
#20590 Duet Bottle $2.99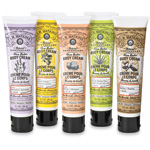 $1.00 Off Hand Creams
Natural shea and cocoa butters are whipped together with more than 10 natural oils and extracts to protect, soothe, and condition delicate skin. This 98-99% natural moisturizer is ideal for rough areas (such as hands and feet) or for use an an all-over body moisturizer. (3.3 oz/95 g)
$8.99 each (reg. $9.99)
#40507 Aloe & Green Tea
#40511 Coconut Milk & Honey
#40518 Grapefruit
#40508 Lavender
#40509 Lemon Cream
#40557 Pomegranate & Acai
$1.00 Off Anti-Aging Hand Cream
A non-greasy, velvety cream enriched with age-defying antioxidants to help maintain youthful-looking hands. Massage into hands, nails, and cuticles to nourish and protect. (4 oz/113 g)
$8.99 (reg. $9.99)
#20302 Anti-Aging Hand Cream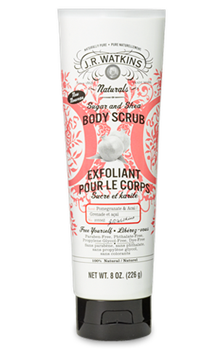 $1.00 Off Sugar & Shea Body Scrub
Sugar and shea butters work with natural oils to gently exfoliate and moisturize; this 100% natural formula will leave skin smooth and soft. (8 oz/226 g)
$11.99 each (reg. $12.99)
#20511 Coconut Milk & Honey
#20443 Grapefruit
#20451 Lavender
#20454 Lemon Cream
#20556 Pomegranate & Acai (limited quantities)
10% Off Castile Liquid and Bar Soaps
Like the olive oil soaps which originated centuries ago in the Castile region of Spain, J.R. Watkins Pure Castile Soaps are based on tried-and-true, simple and effective vegetable oil soap formulas. Naturally free from dyes, sulfates and preservatives. No animal testing or animal byproducts. Made with coconut and olive oils, this concentrated Castile Liquid Soap is naturally pure and gentle, as well as extremely effective and versatile. Use with warm water to gently cleanse hands, body, face or untreated hair. May also be diluted and used as a powerful eco-friendly cleaner in the home. (11 fl oz/325 mL)
$6.99 each (regularly $7.99)
#23072 Clary Sage
#23073 Lavender
#23074 Peppermint
Our Castile Bar Soap is made with coconut and olive oils for a naturally pure and gentle cleanser for hands, face, body and more. (8 oz/226 g)
$4.49 each (reg. $4.99)
#23080 Clary Sage
#23081 Lavender
#23082 Peppermint
15% All Purpose Wipes
Effortlessly wipe away dirt and grime with these durable, disposable, all-purpose wipes. Because they are biodegradable, you can toss them without harming the environment. (35 wipes)
$5.94 each (reg. $6.99)
#26701 Aloe & Green Tea
#26702 Lemon
10% Off Room Fresheners
Eliminate odors in every room of your home with a light mist of our essential oil room fresheners. Our natural formulas create a delightful, long-lasting ambiance. Each spray bottle contains more than 600 sprays. (4 oz/120 ml)
$3.14 each (regularly $3.49)
#26721 Aloe & Green Tea
#26728 Coconut
#26731 Grapefruit - NEW!
#26723 Lavender
#26722 Lemon
---
PRODUCTS BEING DISCONTINUED IN 2017

The following products have been discontinued. Most Estimated Stock Out dates are included; however, this is only approximate. If you use or would like to use any of these products place your order soon.

10490 Aloe & Green Tea Hand Salve 2.1 OZ/59 G - Late January 2017
20521 Lemon Hand Salve 2.1 OZ/59 G - Late January 2017
20481 Lavender Hand Salve 2.1 OZ/59 G - Late January 2017
20555 Pomegranate & Acai Body Oil 4 OZ./118 ML - February 2017
20448 Lemon Body Oil 4 OZ./118 ML - Mid-February 2017
20512 Lavender Body Oil 4 OZ./118 ML - January 2017
20301 Anti Aging Body Serum 4 OZ./118 ML - April 2017
20303 Anti Aging Body Wash 10 OZ/296 Ml - May 2017
20556 Pomegranate & Acai Sugar Scrub 8 OZ/226 G - February 2017
26810 White Tea and Bamboo All Purpose Cleaner 24 OZ./710 ML - March 2017
26813 White Tea and Bamboo Liquid Dish Soap 24 OZ/710 ML - May 2017
26779 Sweetgrass & Citron Moisturizing Dish Soap 24 OZ/710 ML - May 2017
26814 Pomegranate & Acai Moisturizing Dish Soap 24 OZ/710 ML - May 2017
All of the 53 U.S. Spices in glass jars will be discontinued in 2017. These spices are selling out quickly. Some have already sold out. Watkins estimates most of the spices will be sold out by the end of February. (I personally cook with this wide variety of spices in glass jars and I ordered several for myself.)

New Spices Coming Soon
The spices in bottles will be replaced with new spices in tins to be introduced in March or April, 13 spices replacing the spices in glass bottles. The U.S. Retail Price will be $6.99 each! The 6 ounce Black Pepper and Cinnamon are not new products. The new spices will be packaged in matching gold tins with the new lid. They are the size of our 6 ounce tins of Cinnamon and Black Pepper.
---
RECIPES
Hearty Vegetable Beef Soup
This Hearty Vegetable Beef Soup is filled with chunks of ground beef, plenty of vegetables, and generous Italian spices. This soup freezes quite well making it perfect for easy lunches.
2 pounds ground beef
4 cloves garlic, minced
1 small yellow onion, diced small, about 1 cup
10 medium carrots, sliced thin, about 4 cups
6 stalks celery, sliced thin, about 3 cups
6 cups beef broth made with 6 cups boiling water and 4 tablespoons Watkins Beef Soup and Gravy Base
(1) 16-ounce can diced tomatoes
(1) 28-ounce can crushed tomatoes
(1) 14-ounce can tomato sauce
1 teaspoon Watkins Oregano
1 teaspoon Watkins Basil
1/2 teaspoon Watkins Thyme
1 teaspoon kosher salt, adjust to taste
1 teaspoon Watkins Black Pepper
1/2 head of green cabbage, roughly chopped, about 4 cups
In the bottom of a large pot, over medium heat, cook and crumble the ground beef along with the garlic and onion. When the beef has browned, about 8 minutes, drain most of the grease. Add the carrots, celery, and beef broth to the pot. Increase heat to high and add the diced tomatoes, crushed tomatoes, tomato sauce, oregano, basil, thyme, salt, and pepper. Cover with a lid. Once the soup is boiling, stir, and reduce heat to medium; simmer uncovered for about 15-20 minutes, until the carrots are tender. Taste the soup and adjust the salt as desired. Stir in the cabbage. Simmer a few more minutes, just until the cabbage has wilted. Top with cheese, if desired, just before serving. Enjoy! Yield: 10-12 servings.
FREEZER TIP: This soup freezes well and can be reheated in the microwave straight from the freezer or allowed to thaw in the refrigerator and then reheated on the stove or in the microwave. I store it in two cup containers for easy-to-prepare lunches.
Watkins Pure Ground Cinnamon is an award-winning product that has been with Watkins for more than 100 years. Add Cinnamon to morning smoothies for great flavor, energy & a metabolism booster! Sprinkle Cinnamon on oatmeal, toast, and ice cream. Spread Cinnamon Honey Butter on warm rolls, biscuits, corn bread, scones, pancakes, toast, and waffles.
Cinnamon Honey Butter
1/2 cup unsalted butter, softened
1 tablespoon honey
1 or 2 shakes of Watkins Ground Cinnamon
Mix the softened butter with honey and cinnamon in a small bowl until blended. Serve with warm bread. Store in a jar in the refrigerator. Best when served at room temperature.
For a Sweeter Cinnamon Honey Butter use this recipe.
Cinnamon Honey Butter
1 cup (2 sticks) salted butter, room temperature
1 cup powdered sugar
1 cup honey
2 teaspoons Watkins Cinnamon
Use the whisk attachment on your mixer to beat the butter for 1 minute. (You can do this with regular beaters of course. Or a wooden spoon.)
Add the powdered sugar, honey, and cinnamon. Beat on low until the powdered sugar is incorporated, then beat on medium
Scrape the sides and bottom, then beat again until it is smooth.
This recipe will fit into 6 4-ounce mason jars, or 3 half-pint mason jars.
Store this however you normally store butter. Put it in the fridge if you plan on keeping it for a while, or on the counter if it will be eaten within a couple days. Either way it should be served at room temperature.
This will keep in the fridge for as long as butter keeps in the fridge, at least 5-6 months.
BIRD WATCHING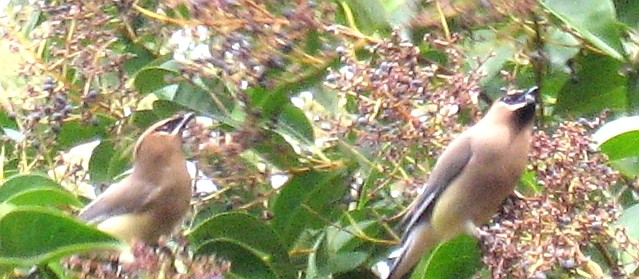 Cedar Waxwings in our Backyard
The Cedar Waxwings have not arrived to eat the berries on the privet tree in our backyard yet this year. I look out the window several times each day. A flock of waxwings can strip the tree of berries in a few hours.
It always amazes me that the waxwings find our yard each winter and stop for a meal! They arrive during December, January, or February.
This photo is from a past year.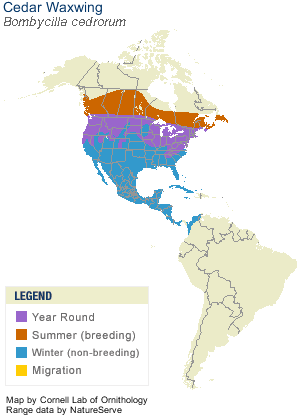 The Juncos are back with a new nest in our boxwood bush this year! The Junco pair built a nest and laid four eggs. See photos at Junco Nest, Eggs, and Hatchlings
The Great Backyard Bird Count for 2014 is Friday February 14 through Monday February 17. The Great Backyard Bird Count is an annual four-day event that engages bird watchers of all ages in counting birds to create a real-time snapshot of where the birds live.
Everyone is welcome, from beginning bird watchers to experts. It takes as little as 15 minutes on one day, or you can count for as long as you like each day of the event. It's free, fun, and easy and it helps the birds. People count the birds in their yards, neighborhoods, and parks.
Get the details of how to participate in this year's bird count at GBBC
See the amazing photo winners of the 2013 Great Backyard Bird Count
Visit my blog Chickadees, Juncos, and Jays Oh My! to see my newest backyard visitors!
Visit my bird watching blog Chickadees, Juncos, and Jays Oh My!. See live birds at the Project FeederWatch live bird cam located in Manitouwadge, ON (Click "Live Bird Cam" image on the left side menu during daylight hours). Join Project FeederWatch and feed and count your backyard birds. Bird watching is a fun and educational family activity.
eNature's Bird Call Challenge will test your knowledge of your local birds or those of any other zip code you choose. And you can choose to quiz yourself on just songbirds or every species of bird in the area. Click here to take the Bird Call Challenge to test your knowledge!
I found this web site with an amazing photo essay of The Birth of Two Hummingbirds
Visit Project FeederWatch for more information and to find out how you can become a citizen scientist and count the birds you your own backyard!
Find out more about this year's Backyard Bird Count at www.birdcount.org.
Top 25 bird lists by state and region for the 2008-2009 season are now online.
View lists of the most common feeder birds in each state or province.
Map of FeederWatch Count Sites
rightbird.com
for information about familiar and unfamiliar birds. Instantly see illustrations of birds that match the attributes you select. The more characteristics you know, the narrower the search is for the "right bird." Includes audible bird call samples.
---
Ask your family and friends if they would like to order Watkins products with you. If your order is $100 US or $100 CDN shipping is free!
Order Online:
Watkins
Order by Phone:
Toll-Free Ordering at:
US and Canada 1-800-WATKINS (1-800-928-5467)
Please give them my ID# 335001 when ordering.
US Orders by Mail:
Mail your order with check or money order to:
Watkins Incorporated
P.O. Box 5570
Winona, MN 55987-0570
Please give them my ID# 335001 when ordering.
Canadian Orders by Mail:
Mail your order with check or money order to:
Watkins Incorporated
P.O. Box 5570
Winona, MN 55987-0570
Please give them my ID# 335001 when ordering.
Get FREE SHIPPING on orders over:
$100.00 in US
$100.00 in Canada
---
CUSTOMER SHIPPING RATES
US and Canada Customer Shipping
Phone, Mail, Fax, or Internet Orders
| | |
| --- | --- |
| Order Total | Shipping Charges |
| $0 - $99.99 | $11.95 |
| $100.00 and over | FREE |
JOIN OUR TEAM
The Watkins Business Opportunity
The Watkins Company is beginning its 150th year of providing outstanding natural products that people use every day. What other company has such a history of experience, success, and integrity?
Get all the details today! Watkins Home Business Or contact me at: eleisia@notjustvanilla.com
Start your own home-based business with Watkins for as little as $19.95. Join for part time income or a long-term full time business.
---
Nestled in the Mississippi River Bluff town of Winona, Minnesota, Watkins has been America's pioneer in natural living since 1868. As America's original natural apothecary manufacturer, Watkins uses only the finest natural ingredients in its diverse lines of personal care, home care, remedies and gourmet ingredients.
Committed to being America's most trusted natural products company, Watkins adheres strictly to the same quality standards set forth by its founder J.R. Watkins. Its J.R. Watkins Natural Apothecary line of personal care contains only natural, environmentally friendly ingredients from renewable resources, avoiding chemicals like parabens, sulfates, phthalates and more and is one of very few lines to be certified by the Natural Products Association.
Responsible manufacturing processes are as important as its commitment to providing natural, consumable items for everyday life. By utilizing gravity-fed filling, biodegradable packing materials, as well as strict recycling programs and much more, Watkins is devoted to leaving the smallest environmental footprint possible.
---
If anything in this newsletter has added a little spice to your life tell me about it. If you have any other helpful hints for using spices and herbs, share them with our readers. Email me at: eleisia@notjustvanilla.com
If you would like to browse our online catalog go to
Watkins
Our home business may be right for you or someone you know
Visit our informational web site at
Watkins Home Business
---
Thank you once again for your continued support and for remaining a valued subscriber to
Around the Kitchen Table - Watkins Newsletter!
*** Integrity Since 1868 ***
148 years of experience and integrity go into each one of our products.
J.R. Watkins started a lasting tradition when he introduced the world's first money-back guarantee, which we still honor on every product we sell.
Hope to see you next month!
Eleisia Whitney
Independent Watkins Consultant and National Team Manager, ID# 335001
23 Oak Ridge Lane
Danville, CA 94506
Watkinize Your Life
Copyright 2002-2016
Around the Kitchen Table

The statements made and opinions expressed in this newsletter are those of the Independent Watkins Consultant who is the publisher of this document, and are not to be construed as the statements or opinions of Watkins Incorporated. Sponsoring or selling Watkins products outside U.S.,U.S.Territories and Canada is strictly prohibited. Contests and prizes are provided by Eleisia Whitney and not Watkins, Inc. or other Independent Associates.
Testimonials are based on personal experiences, and we cannot guarantee these same results for everyone.
We reserve the right to correct printing errors.
Please note: prices listed in this newsletter are in U.S. dollars. Canadian prices are listed in the online catalog.

Original Country Clipart by Lisa

Home l Email l Watkins Products l Watkins Home Business Opportunity
Watkins Newsletter

You are receiving this Watkins Newsletter because you were invited and subscribed to the yahoo group, you ordered Watkins products, or you requested a Watkins catalog or visited my Watkins website and entered your name and email address as a customer.

Subscribe to Around the Kitchen Table Watkins Newsletter
Unsubscribe from Around the Kitchen Table Watkins Newsletter

Subscription information & changes: http://health.groups.yahoo.com/group/Around_the_kitchen_table