About J.R. Watkins Products
J.R. Watkins offers more than 250 high-quality products for you, your family, and your home. Watkins brings you Natural Gourmet Ingredients, Natural-Based Remedies and Supplements, Natural Body Care, and Natural Plant-Based Home Care. Every product is backed by a 100% satisfaction guarantee.

Order Watkins Products for direct shipment to your home at my J. R. Watkins website www.JRWatkins.com/consultant/eleisiawhitney Shipping is FREE for orders over $100; stock up for the holidays and ask your friends, family, and neighbors to order with you so your products are shipped free!

Find Watkins Customer Monthly Featured Products Flyers and Price Lists to help you plan your order at Featured Products Flyers and Price Lists

The Natural Products Association certifies natural personal care products with formulas that are at least 95% natural and made from sustainable resources. Watkins Natural Personal Care line has earned this certification.

The Environmental Protection Agency's Designed for the Environment seal ensures cleaning products displaying the seal have been formulated using the safest ingredients for human and environmental health.

Watkins Products for your Pantry

Bake and cook with our vanilla

and a wide variety of extracts and flavorings, natural herbs, spices, and blends. Watkins Vanilla, Black Pepper, and Cinnamon won a gold medal for excellence.

Watkins Snack and Dip Seasonings give you a fantastic selection of flavors for impromptu entertaining with style and great taste. Whether blended with sour cream as a simple dip, or used to enhance a favorite appetizer recipe, these convenient mixes are easy to use, and handy to have around! Mix with regular, lowfat or nonfat sour cream, puréed cottage cheese or plain yogurt for a variety of dips; thin with buttermilk for creamy salad dressings; add to cream cheese for appetizer or bagel spreads.

Watkins Grapeseed Oils are lower in saturated fats and higher in unsaturated fats, not only lowering LDL (bad) cholesterol but increasing HDL (good) cholesterol. They are very stable at high temperatures, making them perfect for grilling and sauteing.

Watkins Soup and Gravy Bases, beef, chicken, onion, roasted turkey, country gourmet make delicious broths, gravies, sauces, and seasonings. Their low-sodium content gives your dishes healthy home made flavor.

Watkins Products for your Medicine Chest

Original Pain Relieving Liniment (Red Liniment), White Cream Liniment and Pain Relieving Liniment Spray provide relief from muscle aches, soreness and stiffness. Watkins Analgesic Balm and Icy Blue Ointment give temporary relief of arthritis pain and relieve and relax muscle tension and soreness.

Watkins nutritional supplements provide a blend of vitamins, minerals, and herbs for all around health. They are designed for specific needs and lifestyles.

Watkins Petro Carbo Salve relieves pain and itching from cuts, burns, skin irritations, scrapes, and insect bites. Its drawing properties help draw out splinters and minor infections. Buy a large tin for your medicine chest and a travel size for your purse, briefcase, or gym bag.

Watkins Menthol Camphor Ointment relieves that stuffed-up, congested feeling of a chest cold and suppresses the accompanying cough. It provides temporary relief from aching muscles as well as sunburn, windburn and minor burns and scalds. Comes in large size for your medicine chest and handy travel size.

Watkins Natural Personal Care Products

Indulge yourself with Watkins Personal Care products including Peppermint Foot Care made from botanical blends. Green tea helps slow the aging process of skin by attacking free radicals. Coriander and sage exhibit astringent properties, tighten pores and remove odors. Rosemary, sage, and parsley help cleanse the hair and stimulate and invigorate the scalp. Lavender and chamomile soothe and calm distressed skin.

Watkins lotions, body washes, botanical salves, moisturizing scrubs, shea butters, anti-aging wash, serum, body cream, and hand cream, and travel kits protect and heal skin as well as making it soft and smooth.

Watkins Natural Home Care Products

Watkins natural plant-based home care and cleaning products are naturally derived so they are easy on the environment, your home, and your loved ones. Watkins believes caring for the environment and your home shouldn't be a chore; it should be a refreshing experience. This line includes all purpose cleaners, all purpose wipes, liqud dish soaps, lemon automatic dishwashing detergent, lemon furniture polish, lemon toilet bowl cleaner, orange citrus tub and tile cleaner, window cleaners, liquid hand soaps, lemon liquid laundry detergent, powder laundry detergent, and room freshners.

Many of Watkins home care products are concentrated to provide value and superior cleaning. Watkins Concentrated Degreaser is powerful, versatile, and completely biodegradable. It cuts grease without harsh detergents and phosphates. Works in any kind of water - hot or cold, soft or hard. Tackles all those cleaning jobs inside and outside your home - kitchen appliances, grills, garage floors, grease spots on clothing.

Watkins Laundry Detergents are earth-friendly, phosphate-free and biodegradable.They are concentrated to give you more loads per box.

Watkins Toilet Bowl Cleanser cleans, deodorizes, and disinfects, yet is safe for septic tanks. This powerful cleanser removes hard water stains; for use on vitreous china only. Our brush and caddy contain no metal to rust; stays white and clean.

Recipe Downloads


These free downloads are in PDF format and require Adobe Reader to download and view. Download a free PDF viewer at Adobe Reader.

Windows Users
To download the PDF file to your computer, right click on the hyperlink and select Save Target As.
Watkins Customer Testimonials
Just to let you know that my late husband was 30 years diabetic and the Petro Carbo Salve healed simple cuts on the hands within less then a few days. I know that's rare for a diabetic to heal from anything of the sort. He at one time had sever pneumonia and the Watkins Cough Medicine cleared him up in no time at all. I have to admit that this was a very rare experience for Watkins to work so well even on someone who's been diabetic for 30 years. The reason why I used the term "late husband" is on the account my husband passed away June 10/06. Please share the above Watkins results with others as you have my full permission.
Mary from Ontario, Canada

I purchased Petro Carbo Salve about 20 years ago. I bought it for a drawing salve to use on my face. Over the years I have found many many uses for it and recommend it to everyone. They call me the salve pusher at work. I highly recommend it for minor burns. I once reached for a pot right out of the oven and I instantly went for the Petro Carbo Salve. I really didn't think I was going to be able to use my hand thats how bad it burned. I didn't end up with any blisters, and I believe its because I put the salve on it so quickly. I also use it on insect bites, it really does stop the itching and bites go away alot quicker, mainly mosquito bites. Also, when my kids get scraps, paper cuts the salve is wonderful. I call it the miracle salve. My son has two boys, his family recently got stationed in Germany. The first package I mailed his family had the Petro Carbo Salve in it. That was a must with two boys. It took a while to locate the salve, it seems to be hard to come by. The only place I can seem to find it is at fairs. The one I had I gave to my mother in law who used it on her face. Bacon grease splashed on her face. I think she believes its a miracle salve also.
Melanie from Ohio

After having surgery on my hand, I rubbed Petro Carbo Salve on the scar and I was surprised to see the scar simply disappear!
Ken from British Columbia

I am a permanent makeup specialist and trainer through the Society of Permanent Cosmetic Professionals. I use Watkins Petro Carbo Salve to heal the skin at a much faster pace. Normal healing time is four weeks, but with Petro Carbo Salve, it takes only two weeks for the skin to heal. Needless to say, my clients are very pleased to have their skin heal so much faster.
Polly from Indiana
I really enjoy the flavor of the Watkins Maple Extract. I use it in my baking, but my favorite is to make homemade maple syrup. It tastes better than any syrup from the store, and it saves money too.
Naomi from Michigan
Homemade "Maple" Syrup
2 cups granulated sugar
1/8 teaspoon salt
1 cup water
1/2 teaspoon Watkins Maple Extract
1/2 teaspoon Watkins Vanilla Extract
Combine sugar and salt in a saucepan. Add water. Bring mixture to a boil. Boil a couple minutes or so stirring constantly until syrup begins to thicken. Remove from heat. Add maple and vanilla extract. Cool and serve. Store in a tightly covered jar.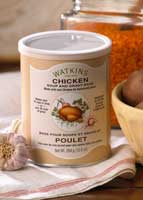 Watkins Chicken Soup Base is a real hit in our home! Since first trying it we don't buy any chicken soup base in the store. Watkins has the best flavor and its so easy to use. I make several excellent recipes using it and have passed on some of the recipes to my friends. I told them if they aren't using Watkins Chicken Soup Base, then, they aren't using the best! The price is worth it and when I think about it I'd rather have the quality than pay some ridiculous price in the store that's too salty or just doesn't compare with this delicious flavor. I use it as a soup base and also as a gravy base. The container is just the right size to stack in my pantry cupboard. I usually order six at a time to make sure I never run out of it. This has to be one of the best chicken soup bases I've ever had and boy am I glad I can order as little or as much as I like. You can't go wrong with Watkins Chicken Soup base and the recipe booklet that accompanies the order!
Lilly from Pennsylvania
I like to take Vanilla and a small amount of water in a microwave safe dish, heat in the microwave on low for 40 seconds and my whole house smells good. You can use any extract you like.
Sandra from Texas
Thank you so much for the Watkins Vanilla Cookbook. I can't wait to try some of the recipes and plan to use it tomorrow.
It was really a surprise to me because it arrived in the mail before I knew I had won the contest. I had been in Florida visiting my grandchildren and just hadn't taken the time to catch up on my e-mail.
Thank you again. I truly love Watkins products and my family has used them from the time I was a little girl in the 40s and 50s. A cousin and neighbor sold Watkins products at that time and my grandmother swore that Watkins was the best.
Marilyn from Missouri
Another gift I have given is the Peppermint Foot Scrub and Peppermint Foot Cream. I find a small clear container that a foot will fit into, add a nice hand towel, add Watkins Peppermint Foot Scrub and Cream, and some nail polish so the recipient can give themselves a pedicure. This gift is always well received. All I do is add some shredded paper for filler and a cute tag or card. I have given this gift as a house warming gift, a new mother gift, or as a "secretary" week gift etc.
Audrey from Idaho
My friend gave me some of your White Cream Liniment because I was having so much pain in my right hip. I used it, and for the first time in a long time, I was able to sleep through the night. I gave it to a friend who hadn't slept for two weeks because of her pain, and after using your liniment she slept all night.
Ruby from Illinois

My Favorite Watkins Products

Watkins Baking Vanilla with Pure Vanilla Extract (previously called Original Double-Strength Vanilla)
I use Watkins Vanilla almost everyday in my cooking and baking. It makes my pies, cakes, and cookies more flavorful because the double-strength formula does not bake or freeze out of the food. I add a little to my pancakes and waffles for a delicate flavor. I even use vanilla in my crafts. I use it to scent and stain the muslin for making primitive dolls.

Granulated Black Pepper
Watkins Granulated Black Pepper is sneeze-proof because the pepper is granulated to preserve the essential oils and flavor and not ground into a powder. I love the fresh taste on scrambled eggs and omelets, vegetable salads, soups, roasts, and I even sprinkle a little on cantaloupe!

Purest Ground Cinnamon
Watkins Ground Cinnamon makes the best cinnamon rolls and pumpkin pie you've ever tasted! Watkins Korintje cassia cinnamon is sweeter and has more flavor than the Ceylon variety. Do the taste test; compare it to the cinnamon you are using now.

Petro Carbo Salve
Every family should have a tin of Watkins Petro Carbo Salve in their medicine chest, first-aid kit, purse, gym bag, and brief case. It relieves the pain and itching caused by minor cuts, burns and skin irritations, scrapes, and insect bites. It's drawing properties will help remove splinters and stickers. Just put a dab on the splinter, cover with a band-aid, and the salve will draw the splinter out. This salve comes in a large tin for your medicine chest.

Degreaser
Watkins Degreaser removes stubborn grease and oil stains from your clothes. I used to buy a spray-on laundry stain remover to pre-treat spots and stains on our clothing before washing. One day I was washing a blouse that had a grease stain on the front from cooking. When I reached for the bottle of stain remover it was empty. I put a little Concentrated Degreaser straight from the bottle on the grease spot, rubbed the spot a little, and tossed the blouse in the wash. These was no spot or stain. It cuts grease without harsh detergents or phosphates. Works in hot or cold, soft or hard water. Use in the laundry and on stovetops, charcoal grills, garage floors, and more.

Home Email Watkins Products Watkins Newsletter
JR Watkins Home Business Opportunity
Blog

Eleisia and Randall Whitney
Watkins Independent Associates/Consultants/Distributors
925-838-0186
Copyright 2003-2018 - All rights reserved