Mail: Use the order form in the master catalog or print a US Order Form or a Canadian Order Form. Then fill it in while browsing the online or printed catalog or price list. If you don't have a printer, write your order on a piece of paper. Make a list that includes the item number, number ordered, product description, price each, and total for each product ordered. Subtotal your order, add applicable sales tax, and shipping; then TOTAL. Write your name, customer # (if you have one from a previous order), address (city, state, zip code), phone number, and email address on your order form. Orders cannot be shipped to a P O Box. Give complete shipping address if different from mailing address. Include a check or money order payable to Watkins Incorporated. Please give my ID# 335001 as your Associate/Consultant. If you need help with your order, call Watkins at 1-800-WATKINS (1-800-928-5467). A Customer Service Representative will calculate your total including shipping and handling and sales tax. Then you can mail a money order or check with the exact amount to Watkins Incorporated.

Mail US and Canadian Orders to:
Watkins Inc.
150 Liberty Street
P.O. Box 5570
Winona, MN 55987-0570
$1.00 Off Soup and Gravy Bases
Whip up delicious stocks, gravies and sauces without hassle. Real beef, chicken, and other wholesome ingredients provide homemade flavor without expensive canned soups and overly-salty bouillon cubes.
$8.99 each (reg. $9.99)
#21175 Beef
#21176 Chicken
#21178 Onion
10% Off Cooking Spray
Non-stick butter-flavored cooking spray lets you achieve virtually fat-free cooking. Nearly 1,600 servings per can! (14 oz/397 g)
$8.09 each (reg. $8.99)
#01040 Cooking Spray
10% Off Grapeseed Oils
Our all-natural grapeseed oil is lower in saturated fat and higher in unsaturated fats than nearly any other oil. It is one of the only foods shown to naturally lower LDL ("bad") cholesterol and increase HDL ("good") cholesterol. Antioxidants help make this a healthy oil, and the oil's high smoke point keeps it stable during grilling or sautéing. (12.6 oz/374 ml)
$11.69 each (reg. $12.99, limited quantities)
#01535 Original Grapeseed Oil
#01527 Garlic & Parsley Grapeseed Oil
10% Off Foaming Hand Soaps
The moisturizing foam in our premium hand soaps gently cleanses the skin, while our signature fragrances leave hands smelling fresh. (9 fl oz/266 mL)
$4.49 each (reg. $4.99)
#20623 Aloe & Green Tea
#20628 Coconut
#20622 Grapefruit
#20627 Lavender
#20626 Lemon
#20628 Ocean Breeze
#20629 Vanilla Mint

20% Off Orange Citrus Tub & Tile Cleaner
Drive away hard water stains and soap scum with this environmentally-friendly cleaner that is safe for your septic system. This cleaner will leave your bathroom tub, tile and fixtures spot free. (24 fl oz/710 mL)
$3.99 each (reg $4.99)
#26788 Orange Citrus Tub & Tile Cleaner
$1.00 OFF Traditional Toilet Bowl Cleanser
Traditional Toilet Bowl Cleanser The most powerful bowl cleaner available. Extremely hard water, especially water with a high rust content, can result in embarrassing stains that simply will not come out. When nothing else on the market will get your bowl sparkling clean, you need professional strength! It cleans, deodorizes and disinfects better, yet is safe for septic tanks. Extremely powerful; for use on vitreous china only. Not natural, but works great! (32 oz/950 mL)
$10.99 each (reg. $11.99)
#06795 Traditional Toilet Bowl Cleanser
$1.00 OFF Lemon Toilet Bowl Cleanser
J.R. Watkins Naturals Lemon Toilet Bowl Cleanser works against calcification and hard water stains on your toilets, sinks, tubs and tile. Made from replenishable and sustainable ingredients, our Toilet Bowl Cleaner is one of the least acidic or caustic cleaners on the market. No harsh chemicals mean no harsh fumes, and it's safe to use with septic systems. (24 oz/710 mL)
$4.99 each (reg. $5.99)
#26750 Lemon Toilet Bowl Cleanser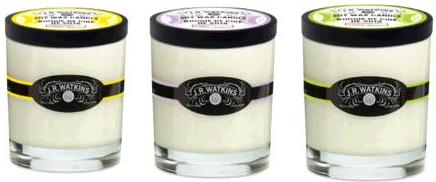 Scented Soy Candles are $1.00 Off
Light one of our natural, soy candles and let your mind wander. Available in our signature fragrances, these long-burning candles are perfect for everyday use and can transform any space into a warm and inviting atmosphere of calm.
$5.99 each (reg. $6.99)
#10562 Aloe & Green Tea
#10565 Lavender
#10569 Lemon Cream
15% Off Deep Muscle Cooling Gel and Deep Muscle Warming Balm
Cooling Gel naturally cools and soothes muscle aches, minor arthritis and back pain. Menthol stimulates nerve endings that transmit cold, much like an icepack. Warming Balm has wintergreen extract (natural methyl salicylate), menthol and capsaicin to warm up muscles naturally! Carry in gym bag or purse for greaseless, stainless pain relief on the go. (3.3 oz/93.6 g)
$7.64 each (reg $8.99)
#12309 Deep Muscle Cooling Gel
#12311 Deep Muscle Warming Balm
$1.00 Off New Men's Body Cleansing Wipes
No time for a shower? Relax. J.R. Watkins Body Cleansing Wipes clean and moisturize naturally with aloe and olus oil. You've got places to go. These are perfect for the gym, office or your travel bag. The fresh scent of Bergamot & Oak blends with coffee extracts to make you feel like new with just one wipe.
$4.99 each (reg. $5.99)
#40090 Men's Cleansing Wipes
20% Off New Men's Body & Face Bar Soap - large 8 oz bar
You don't need a lot of complicated steps to feel confident and bold. Our Body & Face Bar is perfect for showering, shaving or both! Shea Butter and Vitamin E moisturize and clean from head to toe, while the crisp, fresh blend of citrus and woodsy notes invigorate your senses. (8 oz/226 g)
$3.99 each (reg. $4.99)
#23084 Bergamot & Oak Men's Body & Face Bar Soap
$1.00 Off New Men's Body Wash
Our daily moisturizing Body Wash invigorates and refreshes your skin with a crisp, fresh blend of citrus and woodsy scents. Use from head to toe (and anywhere in between), leaving your skin fresh and healthy-looking. (18 fl oz/532 mL)
$6.99 each (reg. $7.99)
#20614 Bergamot & Oak Body Wash
#20615 Wintergreen & Spruce Body Wash
$1.00 Off Daily Moisturizing Lotion- Large 18 fl oz size
Love lotion? We do, too! Our favorite lotion is now available in a larger size with a convenient pump. Natural plant oils, shea and cocoa butters replenish and hydrate leaving skin soft, smooth and healthy-looking. (18 fl oz/532 mL)
$9.99. each (reg. $10.99)
#20584 Aloe & Green Tea
#20583 Coconut Milk & Honey
#20580 Coriander & Cedar
#20585 Lavender
#20582 Lemon Cream
$1.00 Off NEW Peppermint Foot and Body Lotion, 18 fl oz (expected during February)
This lotion is the same product as our Rejuvenating Foot Lotion (#20478), but in a larger size and with a convenient pump top. The name has also changed to reflect that this wonderful lotion can be used effectively on the body as well as on the feet. (18 fl oz/532 mL)
$9.99. each (reg. $10.99)
#20587 Rejuvenating Peppermint Foot & Body Lotion (expected to become available sometime during February 2018)
$1.00 Off Foot Repair Salve
Get intense relief for callused feet! This specially blended salve is 99% natural. Soothing peppermint and restorative oils stand up to tough skin on your heels and toes. (2.1 oz/59 g)
$7.99 each (reg. $8.99)
#20480 Foot Repair Salve
$1.00 Off Rejuvenating Foot Lotion - 11 fl oz size, limited quantities
Revive dry, aching feet with tingling peppermint oil. This 98% natural foot care cream exfoliates and moisturizes dry, rough skin while providing a burst of aromatic peppermint. Awarded Best Foot Cream in the 2009 "Beauty With A Conscience" Awards! (11 oz/325 ml)
$7.99 each (reg. $8.99, limited quantities)
#20478 Rejuvenating Foot Lotion
$1.00 Off Skin Calming Lotion and Body Cream
With colloidal oatmeal and shea butter, this fast-absorbing lotion calms dry, itchy skin while delivering daily moisture. Fragrance free and dermatologist tested for sensitive skin use. (18 fl oz/532 mL)
$9.99 each (reg. $10.99)
#20581 Skin Calming Lotion
This velvety cream calms dry, itchy skin with soothing colloidal oatmeal and long-lasting hydration. Fragrance free and dermatologist tested for sensitive skin use. (8 oz/226 g)
$9.99 each (reg. $10.99)
#20591 Skin Calming Body Cream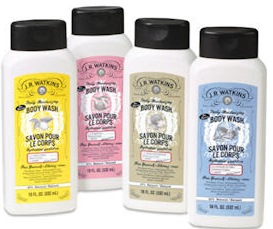 $1.00 Off Daily Moisturizing Body Washes
Gentle plant-based cleaners and skin conditioners cleanse skin without stripping away natural moisture. Leaves all skin types fresh, hydrated, and healthy looking. (18 fl. oz./532 mL)
$6.99 each (reg. $7.99)
#20611 Aloe & Green Tea
#20609 Coconut Milk & Honey
#20607 Coriander & Cedar
#20610 Grapefruit
#20608 Lemon Cream
(Note: #20612 Lavender is temporarily unavailable and will not be on special. It is expected to be available again in March.)
---
RECIPES
Beef Barley Slow Cooker Soup
What's more delicious than a cozy bowl of yummy hot soup on a blustery winter day? I found this delicious recipe from Yvonne at StoneGable.com. I've adapted this recipe using Watkins products.
2 lbs beef lean stew beef cut into small cubes, about 1/2 inch (stew meat or chuck roast)
1 cup chopped onion
2 ribs celery, chopped
2 medium carrots, diced
3/4-1 cup barley
1 bay leaf
1/2 teaspoon Watkins Basil
8-10 cups beef broth made with 8-10 cups of boiling water and 5 tablespoons - 7 tablespoons Watkins Beef Soup and Gravy Base
1/2 cup good dry red wine
Salt
Watkins Black Pepper
Olive oil or Grapeseeed Oil
In a large skillet heat oil to medium heat. Add onion and celery. Cook until translucent, about 5 minutes. Transfer to slow cooker. Add a little more oil and add beef cubes. Brown on all sides. Add to slow cooker. Add the rest of the ingredients to the slow cooker, cover with lid and cook on low for 6-8 hours.
Serve with corn bread, garlic bread, or oyster crackers.
Cinnamon Pecan Coffee Cake
Make this scrumptious coffee cake in a heart-shaped baking dish for your Valentine. So delicious for breafast or brunch or any time of day! This recipe is from Ann at On Sutton Place. Make this coffee cake and refrigerate overnight. Then bake for breakfast or brunch the next morning.
For the cake:
1/2 cup butter softened
3/4 cup sugar
2 eggs
1 teaspoon Watkins Baking Vanilla
1 1/2 cups flour
1 teaspoon baking powder
1/2 teaspoon baking soda
1/2 teaspoon Watkins Cinnamon
1/4 teaspoon nutmeg
3/4 cup sour cream
For the topping:
1/2 cup brown sugar
1/2 cup chopped pecans
1/2 - 1 teaspoon Watkins Cinnamon
In the bowl of a standing mixer, or large bowl with a hand mixer, beat the butter and sugar until fluffy, about 2 minutes.
Add eggs, one at a time, mixing just until blended after each addition. Mix in vanilla.
In a separate bowl, whisk together flour, baking powder, baking soda, cinnamon, and nutmeg.
Add flour mixture to butter mixture in two parts, but add the sour cream between the two flour mixture additions. Mix well, scraping the sides of the bowl.
Spread batter into prepared 9 x 9 inch pan or other similar sized baking dish such as a heart-shaped baking dish. Batter is a bit stiff but spreadable.
Stir together brown sugar, pecans and cinnamon. Sprinkle over batter.
Cover pan with plastic wrap and refrigerate for 8 hours. (Can be refrigerated up to 12 hours if needed.)
When ready to bake, preheat oven to 350 degrees F.
Bake for 35 minutes or until a knife inserted in the center comes out clean.
Serve warm or at room temperature.
---
BIRD WATCHING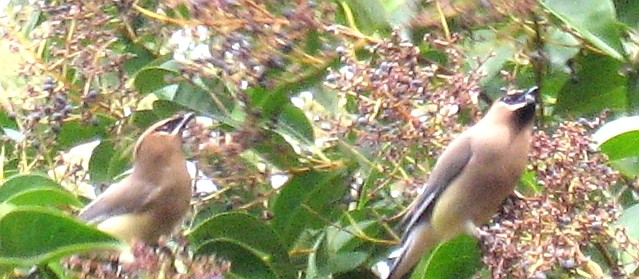 Cedar Waxwings in our Backyard
The Cedar Waxwings arrived last Friday (March 10, 2017) to eat the berries on the privet tree in our backyard. They were late this year possibly because we've had so much rain. I took several photos but none of them were clear enough to include.
It always amazes me that the waxwings find our yard each winter and stop for a meal! They usually arrive during December, January, or February.
This photo is from a past year.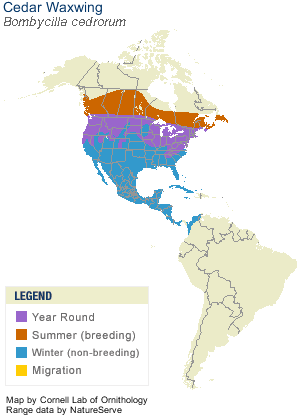 The Juncos are back with a new nest in our boxwood bush this year! The Junco pair built a nest and laid four eggs. See photos at Junco Nest, Eggs, and Hatchlings
Visit my blog Chickadees, Juncos, and Jays Oh My! to see my newest backyard visitors!
Visit my bird watching blog Chickadees, Juncos, and Jays Oh My!. See live birds at the Project FeederWatch live bird cam located in Manitouwadge, ON (Click "Live Bird Cam" image on the left side menu during daylight hours). Join Project FeederWatch and feed and count your backyard birds. Bird watching is a fun and educational family activity.
eNature's Bird Call Challenge will test your knowledge of your local birds or those of any other zip code you choose. And you can choose to quiz yourself on just songbirds or every species of bird in the area. Click here to take the Bird Call Challenge to test your knowledge!
I found this web site with an amazing photo essay of The Birth of Two Hummingbirds
Visit Project FeederWatch for more information and to find out how you can become a citizen scientist and count the birds you your own backyard!
Find out more about this year's Backyard Bird Count at www.birdcount.org.
Top 25 bird lists by state and region for the 2008-2009 season are now online.
View lists of the most common feeder birds in each state or province.
Map of FeederWatch Count Sites
rightbird.com
for information about familiar and unfamiliar birds. Instantly see illustrations of birds that match the attributes you select. The more characteristics you know, the narrower the search is for the "right bird." Includes audible bird call samples.
---
Ask your family and friends if they would like to order Watkins products with you. If your order is $100 US or $100 CDN shipping is free!
Order Online:
Watkins
Order by Phone:
Toll-Free Ordering at:
US and Canada 1-800-WATKINS (1-800-928-5467)
Please give them my ID# 335001 when ordering.
US Orders by Mail:
Mail your order with check or money order to:
Watkins Incorporated
P.O. Box 5570
Winona, MN 55987-0570
Please give them my ID# 335001 when ordering.
Canadian Orders by Mail:
Mail your order with check or money order to:
Watkins Incorporated
P.O. Box 5570
Winona, MN 55987-0570
Please give them my ID# 335001 when ordering.
Get FREE SHIPPING on orders over:
$100.00 in US
$100.00 in Canada
---
CUSTOMER SHIPPING RATES
US and Canada Customer Shipping
Phone, Mail, Fax, or Internet Orders
| | |
| --- | --- |
| Order Total | Shipping Charges |
| $0 - $99.99 | $11.95 |
| $100.00 and over | FREE |
JOIN OUR TEAM
The Watkins Business Opportunity
The Watkins Company is beginning its 150th year of providing outstanding natural products that people use every day. What other company has such a history of experience, success, and integrity?
Get all the details today! Watkins Home Business Or contact me at: eleisia@notjustvanilla.com
Start your own home-based business with Watkins for as little as $29.95. Join for part time income or a long-term full time business.
---
Nestled in the Mississippi River Bluff town of Winona, Minnesota, Watkins has been America's pioneer in natural living since 1868. As America's original natural apothecary manufacturer, Watkins uses only the finest natural ingredients in its diverse lines of personal care, home care, health and gourmet ingredients.
Committed to being America's most trusted natural products company, Watkins adheres strictly to the same quality standards set forth by its founder J.R. Watkins. Its J.R. Watkins Natural Apothecary line of personal care contains only natural, environmentally friendly ingredients from renewable resources, avoiding chemicals like parabens, sulfates, phthalates and more and is one of very few lines to be certified by the Natural Products Association.
Responsible manufacturing processes are as important as its commitment to providing natural, consumable items for everyday life. By utilizing gravity-fed filling, biodegradable packing materials, as well as strict recycling programs and much more, Watkins is devoted to leaving the smallest environmental footprint possible.
---
If anything in this newsletter has added a little spice to your life tell me about it. If you have any other helpful hints for using spices and herbs, share them with our readers. Email me at: eleisia@notjustvanilla.com
If you would like to browse our online catalog go to
Watkins
Our home business may be right for you or someone you know
Visit our informational web site at
Watkins Home Business
---
Thank you once again for your continued support and for remaining a valued subscriber to
Around the Kitchen Table - Watkins Newsletter!
*** Integrity Since 1868 ***
150 years of experience and integrity go into each one of our products.
J.R. Watkins started a lasting tradition when he introduced the world's first money-back guarantee, which we still honor on every product we sell.
Hope to see you next month!
Eleisia Whitney
Independent Watkins Consultant, Bronze Manager, and National Team Leader, ID# 335001
23 Oak Ridge Lane
Danville, CA 94506
Watkinize Your Life
Copyright 2002-2017
Around the Kitchen Table

The statements made and opinions expressed in this newsletter are those of the Independent Watkins Consultant who is the publisher of this document, and are not to be construed as the statements or opinions of Watkins Incorporated. Sponsoring or selling Watkins products outside U.S.,U.S.Territories and Canada is strictly prohibited. Contests and prizes are provided by Eleisia Whitney and not Watkins, Inc. or other Independent Associates.
Testimonials are based on personal experiences, and we cannot guarantee these same results for everyone.
We reserve the right to correct printing errors.
Please note: prices listed in this newsletter are in U.S. dollars. Canadian prices are listed in the online catalog.

Original Country Clipart by Lisa

Home l Email l Watkins Products l Watkins Home Business Opportunity
Watkins Newsletter

You are receiving this Watkins Newsletter because you were invited and subscribed to the yahoo group, you ordered Watkins products, or you requested a Watkins catalog or visited my Watkins website and entered your name and email address as a customer.

Subscribe to Around the Kitchen Table Watkins Newsletter
Unsubscribe from Around the Kitchen Table Watkins Newsletter

Subscription information & changes: http://health.groups.yahoo.com/group/Around_the_kitchen_table