US APRIL SPECIALS
Place your order online or browse my website at www.JRWatkins.com/consultant/eleisiawhitney The Special Offers tab on the menu shows sale items.
When you go to my website choose Sign In/Create Account in the upper right side of the web page and then "Create a Watkins Customer Account" so you can track your order history. Or sign in with your ID Number or Username and password. Whether you place your order online or by phone please give my name and ID# (Eleisia Whitney ID# 335001) so that I get credit for your order. Thanks so much! Call me if you have problems, 925-838-0186. I'll be happy to place your order for you.
Free shipping on orders of $100.00 and over
Stock up on your favorite products or combine orders with friends and family to have your products shipped free of charge!
2017 Master Catalog
Order online, by phone, or by mail.

10% Off Snack & Dip Mixes
When Watkins consultants present products at State Fairs and other local events, the biggest sellers by far are these tasty seasonings. Mix with regular or fat-free sour cream for awesome dips. Also great in cheese balls, spreads, and more.
$8.99 each (reg. $9.99)
#02069 Blazin Cajun
#02055 Cucumber Dill
#02057 Garlic & Dill
#06700 Guacamole Dip
#06701 Salsa Seasoning Dip
#02062 Salsa & Sour Cream
15% Off All Gourmet Grinders
Satisfy your craving for seasonings with Watkins grinders. These disposable grinders have a unique, eye-catching design, and the top-quality ingredients inside will please your palate. The grinders are convenient and easy to use—just twist to grind.
$5.09 each (regularly $5.99)
#00534 Chicken Seasoning (1.9 oz/54 g)
#00531 Coarse Sea Salt (3.1 oz/90 g)
#00532 Four Peppercorn Blend (1.6 oz/48 g)
#00533 Garlic Peppercorn Blend (2.2 oz/65 g)
#00539 Garlic Sea Salt (2.65 oz/75 g)
#00537 Lemon Pepper (2.40 oz/68 g)
#00541 Steak & Chops Seasoning (1.9 oz/54 g)
#00530 Whole Black Peppercorns (1.7 oz/50 g)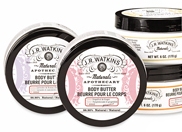 15% Off Body Butters
Nourishing shea and cocoa butters provide long-lasting hydration, while antioxidant rich plant oils and extracts help protect, soothe and smooth skin. (6 oz/170 g)
$10.19 each (reg. $11.99)
#20563 Coconut Milk & Honey
#20562 Grapefruit & Ginger
#20564 Lavender & Roman Chamomile
$1.00 Off Body Oil Mists
Rich moisturizing sprays are formulated with apricot kernel oil and vitamin E. Perfect for dry skin, the oil is quickly absorbed, leaving skin with a dry, soft feel. (6 fl oz/177 mL)
$7.99 each (reg. $8.99)
#20456 Aloe & Green Tea
#20447 Coconut Milk & Honey
#20444 Grapefruit
#20452 Lavender
#20455 Lemon
10% Off Ultra-Moisturizing Lip Balms
Nourish lips with our 100% natural formula crafted with premium beeswax, sunflower and coconut oils. (0.15 oz/4.25 g)
$2.69 each (reg. $2.99)
#13542 Menthol
#13540 Peppermint
#13541 Raspberry
$1.00 Off Natural Menthol Camphor Vapor Rub
Relieve symptoms associated with the common cold with this naturally formulated chest rub. We have developed the medicinal ingredients of our legendary products into an earth conscious base to give you the best of both worlds. 95% Natural. Paraffin and petrolatum free. Beeswax and soy bean oil base. (2.1 oz/2.1 oz)
$6.99 each (reg. $7.99)
#12315 Natural Menthol Camphor Vapor Rub
$1.00 Off Menthol Camphor Bath Soak
Soothe away aches and pains with this relaxing blend of lavender, eucalyptus, menthol and camphor that is 99% natural. Just a bit of this unique blend offers the ultimate in relaxation. (14 oz/400 g)
$8.99 each (reg. $9.99)
#12305 Menthol Camphor Bath Soak
$1.00 Off Menthol Lavender Drops
Clear your head and breathe easier with 100% natural, purifying menthol and lavender vapors. Put a few drops of this non-staining blend on a handkerchief, tissue or pillowcase for an aromatic pick-me-up. Originally known as the "vest-pocket doctor" when introduced in 1934, you can still take them anywhere. (2 oz/60 ml)
$13.99 each (reg. $14.99)
#02351 Menthol Lavender Drops
$1.00 Off Menthol Camphor Relief Mist
Bring welcome relief to any room when you diffuse these comforting vapors into the air you breathe. Our 96.18% natural blend of menthol, eucalyptus, camphor and thyme provides more than 600 sprays of penetrating relief. Keep some on hand for cold season. (4 fl oz/118 mL) $8.99 each (reg. $9.99) #12340 Menthol Camphor Relief Mist
10% Off All Purpose Cleaners
Rid your home of dirt and grime without using harsh toxins. J.R. Watkins Naturals AllPurpose Cleaners quickly remove grease and grime from most surfaces. You'll find hundreds of uses for this streak-free, earth-friendly cleaner. It's great for appliances, sinks, countertops, stainless steel, fixtures, floors, walls, sealed granite, tile and more! (24 oz/710 ml)
$4.49 each (regularly $4.99)
#26781 Aloe & Green Tea
#26791 Coconut
#26787 Grapefruit
#26783 Lavender
#26782 Lemon
10% Off Liquid Hand Soaps
Formulated with natural ingredients and essential oils, these hard-working soaps are gentle on hands. Enjoy Watkins' premium fragrances as you create a soothing lather of suds for exceptionally clean and smooth hands. Moisturizing varieties include vitamin E, aloe and glycerin to clean, nourish and soften hands. (12 fl oz/325 mL)
$4.49 each (regularly $4.99)
#23050 Aloe & Green Tea
#23058 Coconut
#23055 Grapefruit
#23052 Lavender
#23051 Lemon
#23054 Melon
10% Off Liquid Dish Soaps
Watkins dish soap delivers high performance sudsing action that eliminates grease and removes dried on food. Formulated with premium natural ingredients and essential oils, these hardworking soaps will leave your hands exceptionally clean and smooth. (24 fl oz/710 mL)

$4.49 each (reg. $4.99)
#26771 Aloe & Green Tea
#26775 Coconut
#26778 Grapefruit
#26773 Lavender
#26772 Lemon
#26774 Orange Citrus

New Spices in Tins Available Now


The spices in bottles will be replaced with new spices in tins. The U.S. Retail Price will be $6.99 each! The 6 ounce Black Pepper and Cinnamon are not new products. The new spices will be packaged in matching gold tins with the new lid. They are the size of our 6 ounce tins of Cinnamon and Black Pepper.
---
CLEANING TIPS

Spring has arrived and most of us are contemplating spring cleaning. Here are a few of cleaning tips.
Stained Grout - Spilled coffee on your tile countertop or tile floor or is the grout in your tile floor beginning to show stains? Tackle grout stains with this homemade stain remover. Add lemon juice to 1 or 2 teaspoons of Watkins Cream of Tartar in a small bowl to make a paste. This mixture acts as a natural bleaching agent. Apply with a toothbrush, then rinse. I've used this stain remover on the grout in our kitchen tile floor and it works!

Stained Tub - Combine equal amounts of Watkins Cream of Tartar and baking soda with enough lemon juice to make a paste. Rub the mixture into the stain with your fingers or a soft cloth. Let sit for a half hour, then rinse well with water.

J.R. Watkins Naturals All-Purpose Cleaners quickly remove grease and grime from most surfaces. You'll find hundreds of uses for this streak-free, earth-friendly cleaner. It's great for appliances, sinks, countertops, stainless steel, fixtures, floors, walls, sealed granite, tile and more!

To clean your kitchen or bathroom sinks, spray sink with your favorite All-Purpose Cleaner. Scrub sink with sponge or cloth and rinse. Then spray sink again and let sit for a minute or two. Wipe with a dry cloth or paper towel for a sweet-smelling and sparkling sink. The scents are so refreshing smelling! My favorite is Grapefruit All-Purpose Cleaner. Other scents are lemon, coconut, aloe & green tea, and lavender. All-Purpose Cleaners are on sale this month for 10% off.
---
RECIPES
Carrot Cupcakes with Cream Cheese Coconut Pecan Frosting and Old-Fashioned Lemon Bread are two of my favorite Spring recipes. I hope you enjoy them.
The finely grated carrots add wonderful moistness and hidden nutrition to these cupcakes. I love the rich cream cheese frosting. The coconut, pecans, and raisins give the frosting texture. My family really liked these tender cupcakes. I will use this recipe again and again. These cupcakes would make a delicious Easter dessert. Use more coconut to make nests and omit the pecans and raisins. Tint the coconut with a little green food coloring. Decorate with tiny candy Easter eggs.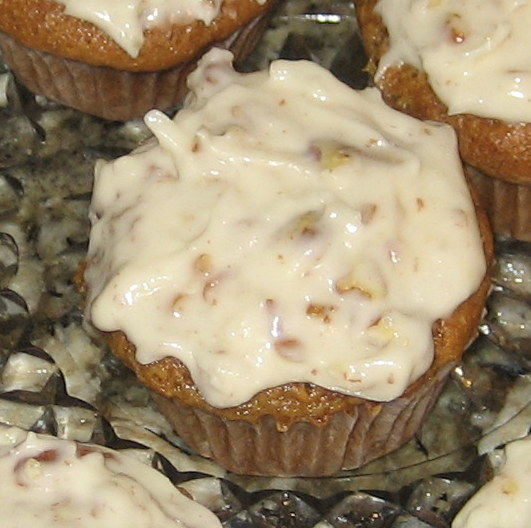 Carrot Cupcakes with Cream Cheese Coconut Pecan Frosting
4 eggs
2 cups sugar
1 cup canola oil
2 cups all-purpose flour
2 teaspoons Watkins Cinnamon
1 teaspoon baking soda
1 teaspoon baking powder
1 teaspoon Watkins Allspice
1/2 teaspoon salt
3 cups finely grated carrots
Cream Cheese Coconut Pecan Frosting
1 package (8 ounces) cream cheese, softened
1/4 cup butter, softened
2 cups confectioners' sugar
1 teaspoon Watkins Vanilla Extract (Baking Vanilla or Pure Vanilla)
1/2 cup flaked coconut
1/2 cup chopped pecans
1/2 cup chopped raisins(optional)
Beat the eggs, sugar and oil in a large bowl. Combine the flour, cinnamon, baking soda, baking powder, allspice and salt. Gradually add to the egg mixture. Stir in the finely grated carrots. I prefer using finely grated carrots because they disappear into the batter as they bake.
Fill paper-lined muffin cups two-thirds full of batter.
Bake at 350 degrees F for 20-27 minutes or until a toothpick inserted near the center comes out clean. Baking time varies depending on the amount of batter in each muffin cup and individual oven temperatures.
Cool for 5 minutes before removing from pans to wire racks.
For the Frosting
Beat cream cheese and butter until fluffy in a large bowl. Gradually beat in confectioners' sugar until smooth. Stir in the coconut, pecans and raisins. Frost the cooled cupcakes. Store in the refrigerator. Yield 2 dozen cupcakes. The frosting in the photo above shows flaked coconut and chopped pecans. I didn't use chopped raisins. Use the ingredients for your personal taste.
Old-Fashioned Lemon Bread
1 3/4 cups all-purpose flour
1 cup granulated sugar
1 teaspoon baking powder
1/2 teaspoon salt
2 large eggs
2/3 cup (5 fl. oz. can) evaporated milk
1/3 cup Watkins Grapeseed Oil or canola oil
1 teaspoon Watkins Lemon Extract
1 teaspoon grated lemon zest (reserve lemon for later use)
Lemon Syrup (recipe follows)
Preheat oven to 350 degrees F. Grease and flour 8 x 4-inch baking pan.
Combine flour, sugar, baking powder and salt in large bowl.
Beat eggs, evaporated milk, oil, lemon extract, and lemon zest together in medium bowl.
Pour egg mixture into flour mixture. Stir until just combined. Pour into prepared pan.
Bake for 50 to 60 minutes or until wooden skewer inserted in center comes out clean. Do not over bake.
Using the skewer, poke numerous holes in the hot bread, piercing all the way to the bottom. Slowly drizzle the hot Lemon Syrup over the bread (Syrup will soak into the bread). Cool on wire rack for 15 minutes; run knife around edge of bread. Remove bread to wire rack to cool completely.
Lemon Syrup
Combine 1/3 cup granulated sugar and 1/4 cup lemon juice (1 lemon) in small, heavy-duty saucepan. Cook over medium-low heat, stirring constantly, for about 5 minutes or until sugar is dissolved and a light syrup is formed. Pour over Lemon Bread.
Ready to Grill?

Bacon Wrapped Chipotle Shrimp Kabobs
Marinade Ingredients:
1/4 cup light olive oil
juice of 1 lime, about 2 tablespoon's worth
1/2 chipotle pepper in adobo sauce, seeded and minced
1 cloves garlic, minced
1 1/2 teaspoons light brown sugar
1/2 teaspoon kosher salt
1/2 teaspoon Watkins Paprika
1/4 teaspoon Watkins Cumin
1/8 teaspoon Watkins Cayenne Pepper

4 - 6 slices of bacon, each slice cut into 3 equal pieces
1 pound medium-large raw shrimp, peeled and deveined, tails left on
Avocado Cream Sauce for serving
Combine all of the marinade ingredients in a small bowl and whisk together. Place the shrimp in an airtight container or a large ziploc bag. Pour the marinade over the shrimp and seal the bag or container. Turn over a few times to ensure that everything is well coated. Allow the shrimp to marinate for 30 minutes.
When almost ready to grill, soak wooden skewers in water for 15 minutes before wrapping each shrimp in a piece of bacon and threading the shrimp onto the skewers. Heat the grill to medium high and generously oil the grates to prevent the meat from sticking. Place the kabobs on the grill and let cook, turning once or twice, until the shrimp turns pink and the bacon is cooked through. Serve the shrimp kebabs with Avocado Cream Sauce (recipe follows).
Avocado Cream Sauce
2 large ripe avocados, halved and pitted
1 cup greek yogurt or sour cream
2 large cloves garlic, minced
juice from 2 limes, about 3-4 tablespoons worth
1/4 - 1/2 teaspoon kosher salt, adjust to taste
1/8 teaspoon freshly ground Watkins Black Pepper from a Pepper Grinder
Place the avocado, yogurt, garlic, and lime juice in the blender. Process until completely smooth. Season with salt and pepper, according to taste. Transfer to a serving dish and serve immediately or cover tightly, pressing plastic wrap against the surface of the sauce before covering with an airtight lid. Sauce will keep well in the refrigerator for up to 48 hours.
BIRD WATCHING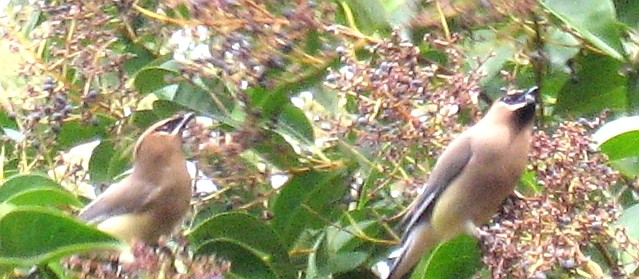 Cedar Waxwings in our Backyard
The Cedar Waxwings arrived last Friday (March 10, 2017) to eat the berries on the privet tree in our backyard. They were late this year possibly because we've had so much rain. I took several photos but none of them were clear enough to include.
It always amazes me that the waxwings find our yard each winter and stop for a meal! They usually arrive during December, January, or February.
This photo is from a past year.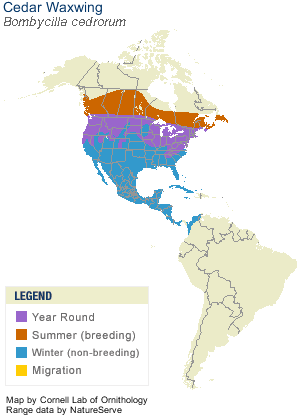 The Juncos are back with a new nest in our boxwood bush this year! The Junco pair built a nest and laid four eggs. See photos at Junco Nest, Eggs, and Hatchlings
The Great Backyard Bird Count for 2014 is Friday February 14 through Monday February 17. The Great Backyard Bird Count is an annual four-day event that engages bird watchers of all ages in counting birds to create a real-time snapshot of where the birds live.
Everyone is welcome, from beginning bird watchers to experts. It takes as little as 15 minutes on one day, or you can count for as long as you like each day of the event. It's free, fun, and easy and it helps the birds. People count the birds in their yards, neighborhoods, and parks.
Get the details of how to participate in this year's bird count at GBBC
See the amazing photo winners of the 2013 Great Backyard Bird Count
Visit my blog Chickadees, Juncos, and Jays Oh My! to see my newest backyard visitors!
Visit my bird watching blog Chickadees, Juncos, and Jays Oh My!. See live birds at the Project FeederWatch live bird cam located in Manitouwadge, ON (Click "Live Bird Cam" image on the left side menu during daylight hours). Join Project FeederWatch and feed and count your backyard birds. Bird watching is a fun and educational family activity.
eNature's Bird Call Challenge will test your knowledge of your local birds or those of any other zip code you choose. And you can choose to quiz yourself on just songbirds or every species of bird in the area. Click here to take the Bird Call Challenge to test your knowledge!
I found this web site with an amazing photo essay of The Birth of Two Hummingbirds
Visit Project FeederWatch for more information and to find out how you can become a citizen scientist and count the birds you your own backyard!
Find out more about this year's Backyard Bird Count at www.birdcount.org.
Top 25 bird lists by state and region for the 2008-2009 season are now online.
View lists of the most common feeder birds in each state or province.
Map of FeederWatch Count Sites
rightbird.com
for information about familiar and unfamiliar birds. Instantly see illustrations of birds that match the attributes you select. The more characteristics you know, the narrower the search is for the "right bird." Includes audible bird call samples.
---
Ask your family and friends if they would like to order Watkins products with you. If your order is $100 US or $100 CDN shipping is free!
Order Online:
Watkins
Order by Phone:
Toll-Free Ordering at:
US and Canada 1-800-WATKINS (1-800-928-5467)
Please give them my ID# 335001 when ordering.
US Orders by Mail:
Mail your order with check or money order to:
Watkins Incorporated
P.O. Box 5570
Winona, MN 55987-0570
Please give them my ID# 335001 when ordering.
Canadian Orders by Mail:
Mail your order with check or money order to:
Watkins Incorporated
P.O. Box 5570
Winona, MN 55987-0570
Please give them my ID# 335001 when ordering.
Get FREE SHIPPING on orders over:
$100.00 in US
$100.00 in Canada
---
CUSTOMER SHIPPING RATES
US and Canada Customer Shipping
Phone, Mail, Fax, or Internet Orders
| | |
| --- | --- |
| Order Total | Shipping Charges |
| $0 - $99.99 | $11.95 |
| $100.00 and over | FREE |
JOIN OUR TEAM
The Watkins Business Opportunity
The Watkins Company is beginning its 150th year of providing outstanding natural products that people use every day. What other company has such a history of experience, success, and integrity?
Get all the details today! Watkins Home Business Or contact me at: eleisia@notjustvanilla.com
Start your own home-based business with Watkins for as little as $19.95. Join for part time income or a long-term full time business.
---
Nestled in the Mississippi River Bluff town of Winona, Minnesota, Watkins has been America's pioneer in natural living since 1868. As America's original natural apothecary manufacturer, Watkins uses only the finest natural ingredients in its diverse lines of personal care, home care, remedies and gourmet ingredients.
Committed to being America's most trusted natural products company, Watkins adheres strictly to the same quality standards set forth by its founder J.R. Watkins. Its J.R. Watkins Natural Apothecary line of personal care contains only natural, environmentally friendly ingredients from renewable resources, avoiding chemicals like parabens, sulfates, phthalates and more and is one of very few lines to be certified by the Natural Products Association.
Responsible manufacturing processes are as important as its commitment to providing natural, consumable items for everyday life. By utilizing gravity-fed filling, biodegradable packing materials, as well as strict recycling programs and much more, Watkins is devoted to leaving the smallest environmental footprint possible.
---
If anything in this newsletter has added a little spice to your life tell me about it. If you have any other helpful hints for using spices and herbs, share them with our readers. Email me at: eleisia@notjustvanilla.com
If you would like to browse our online catalog go to
Watkins
Our home business may be right for you or someone you know
Visit our informational web site at
Watkins Home Business
---
Thank you once again for your continued support and for remaining a valued subscriber to
Around the Kitchen Table - Watkins Newsletter!
*** Integrity Since 1868 ***
148 years of experience and integrity go into each one of our products.
J.R. Watkins started a lasting tradition when he introduced the world's first money-back guarantee, which we still honor on every product we sell.
Hope to see you next month!
Eleisia Whitney
Independent Watkins Consultant and National Team Manager, ID# 335001
23 Oak Ridge Lane
Danville, CA 94506
Watkinize Your Life
Copyright 2002-2016
Around the Kitchen Table

The statements made and opinions expressed in this newsletter are those of the Independent Watkins Consultant who is the publisher of this document, and are not to be construed as the statements or opinions of Watkins Incorporated. Sponsoring or selling Watkins products outside U.S.,U.S.Territories and Canada is strictly prohibited. Contests and prizes are provided by Eleisia Whitney and not Watkins, Inc. or other Independent Associates.
Testimonials are based on personal experiences, and we cannot guarantee these same results for everyone.
We reserve the right to correct printing errors.
Please note: prices listed in this newsletter are in U.S. dollars. Canadian prices are listed in the online catalog.

Original Country Clipart by Lisa

Home l Email l Watkins Products l Watkins Home Business Opportunity
Watkins Newsletter

You are receiving this Watkins Newsletter because you were invited and subscribed to the yahoo group, you ordered Watkins products, or you requested a Watkins catalog or visited my Watkins website and entered your name and email address as a customer.

Subscribe to Around the Kitchen Table Watkins Newsletter
Unsubscribe from Around the Kitchen Table Watkins Newsletter

Subscription information & changes: http://health.groups.yahoo.com/group/Around_the_kitchen_table